The Plunge (Liebeswellen in German) is our new on-location cultural project, an audio tour with a difference that takes you on a fascinating literary walk through the coastal resort of Scheveningen. Following its premiere at Festival Classique on 7 June 2018, The Plunge will run 4 days a week (Thursday, Friday, Saturday and Sunday) until 9 September. You can pick up your audio tour any time between 11 am and 5 pm. The pick-up point and box office: the entrance of the Pier.
The Plunge centres around German composer Felix Mendelssohn Bartholdy, who came to Scheveningen in 1836 in the hope of restoring his failing health. He was also wrestling with matters of the heart: having fallen for young Cécile Jeanrenaud, Felix spent much of his visit pondering his feelings and considering whether he should marry her. Though a little underwhelmed by Holland's celebrated seaside spa, Scheveningen became the setting for a soul-searching interlude in his life. Especially for this project, director Ingrid van Frankenhuyzen invited acclaimed Dutch novelist Marente de Moor to write a brand new short story inspired by Mendelssohn's sojourn on the Dutch coast, giving her full artistic freedom. De Moor, winner of the European Union Prize for Literature, has written two exquisite interlocking tales – one for grown-ups and one for children aged six and over. Will Mendelssohn in the imaginary world of De Moor find the answers? What happens when a small boy from the fishing community of Scheveningen comes into his life? Will the sea sing? Soundscapes created by composers Jürgen De Blonde and Robert van Raamsdonk (children's version) have been commissioned to give her words an added dimension.
At the start of the tour, we provide you with an MP3 player and headset. You then embark on what at first seems to be an ordinary walk, until you reach three dramatic locations designed for sitting and listening. Each location affords its own special view of the sea and offers a unique setting in which to immerse yourself in an episode from The Plunge.
The tour takes between 1½ and 2 hours to complete (roughly 3 kilometers), depending on your walking speed. The theatrically dressed locations to sit and listen are: on a terrace of the Kurhaus, in a row of dunes at the beach of beach pavilion Oscars and on top of a dune of the Meteo Tower (Zwarte Pad).  One of the installations is 12 persons-porch swing ZlowMotion, a Dutch Design Week item by Pink Steenvoorden. The special slow swing of the ZlowMotion mimics not only the rhythm of the waves but because its swing is slower than your natural heart beat, you immediately relax. All locations face the sea.
The Plunge | Liebeswellen | Liefdeskuren is a multilingual project, available in English, German and Dutch. Marente de Moor's original stories have been translated into German by Andreas Ecke and into English by David Doherty.
Although in Dutch, here you can hear two fragments on MP3 audio of the grown up version, and underneath it the children's version. Of course we will have it available in English and German during the project.
The Team  
Concept, director & producer: Ingrid van Frankenhuyzen.
Location design & engineering: Pink Steenvoorden.
Author: Marente de Moor. Actors: Lex Bohlmeijer (Dutch), Jeremy Warcup (English), Christoph Walter (German).
Soundscapes: Jürgen De Blonde, Robert van Raamsdonk (children's version).
Audio editing, mixing, mastering: Pepijn Stutterheim.
Research: Bernadette Hijstek. Translators: David Doherty, Andreas Ecke.
This is the Luchtwachttoren (or Meteo Tower), the second location for sitting and listening.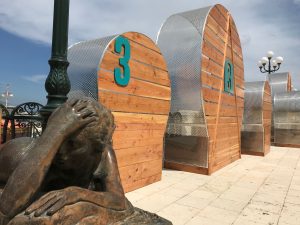 The Plunge is funded, co-produced and supported by